S2009-/S2016-ekkolodd
Fiskeekkoloddet fra Simrad S2000-serien kombinerer maksimale dybdedetaljer og intuitiv bruk med tastatur for pålitelig kontroll under alle forhold.
BESTILLINGSVARE
Separat ekkolodd med integrert Broadband Sounder™-modul og CHIRPteknologi
Høy dybdegjennomtrengning og pinghastighet, og kompensering for vertikal bølgegang
9-tommers stående skjerm eller 16-tommers bredformatskjerm
Høy lysstyrke som passer utmerket for montering utendørs
Se tydelig med funksjoner som White Line (Hvit linje), White Marker
(Hvit markør) og Colour Erase (Fargesletting)
Enkel betjening med 8 menytaster for direktetilgang
Muligheter for brakettmontering og innfelt montering (brakett følger med), samt Ethernet-, NMEA 0183- og NMEA 2000-tilkobling
• Høy CHIRP som skiller fisken fra bunnen.
• Individuell fisk i midtre lag av vannet. Fantastisk registrering av en jigg som vises mens den synker fra 10 meter til bunnen på 41 meter.
Integrated CHIRP Echosounder
S2000 series displays feature a built-in echosounder module with CHIRP technology to deliver higher resolution, improved target separation, and greater image clarity than traditional sonar. Simrad technology makes CHIRP available not only for special-purpose CHIRP transducers, but also for traditional single-frequency transducers. This offers a cost-effective upgrade to CHIRP technology by installing an S2000 series fish finder for use with your existing transducer. Installation is simple thanks to a plug-and-play port for Simrad and Airmar transducers with blue seven-pin connectors, and a range of optional adapters to enable easy retrofit to other transducer types.
16-inch Widescreen Display
The S2016 offers a combination of excellent vertical detail and a lengthy on-screen echosounder history, with a high-definition 16-inch widescreen display. This reduces your need to zoom or scroll, while making it easy to backtrack to promising areas. Direct-access menu keys beside the display provide intuitive control of on-screen menu options, enabling one-button access to key settings and features. With reliable, long-life operation and clear tactile feedback, the S2016's large buttons are suitable for use in rough seas, while travelling at speed, and with wet or gloved hands. An HDMI output lets you mirror the built-in screen on a secondary display, delivering echosounder visibility at a second station without a second fish finder.
Networking & Expansion
It's easy to share sonar data with other Simrad displays over an Ethernet network. S2000 series fish finders can also be used as dedicated displays for the built-in sonar module on Ethernet-connected Simrad multifunction displays, freeing your main display for other purposes such as navigation or radar. Other devices can be integrated via NMEA 2000® and NMEA 0183® connectivity, enabling additional functionality such as marking a waypoint on your chartplotter straight from the fish finder's history in order to revisit a promising spot.
Integrated 16-inch widescreen HD display
Dual-display mirroring option with HDMI output
High depth penetration and ping speed
Vertical heave compensation
Simple operation with 8 direct-access menu keys
Customise your view to highlight targets of interest
Bracket or flush-mount installation (bracket included)
9-inch Portrait Display
With a compact 9-inch LCD in portrait orientation, the S2009 maximises screen size where limited mounting space is available. Its portrait orientation is well suited to fishing applications, displaying the water column with a high level of vertical detail.
White Line, White Marker and Colour Erase
The S2009 Fish Finder offers a range of features to quickly and easily adjust the on-screen image to suit the task at hand. White Line clearly separates the water column from the bottom with a high-contrast white line, for enhanced bottom visibility. White Marker allows any user-selected colour from the fish finder image to be replaced with high-contrast white, highlighting specific sonar echoes corresponding to fish or other targets of interest. Colour Erase allows any selected colour to be blended into the background, eliminating unwanted noise or unimportant features from the display.
Keypad Operation with Direct-Access Menu Keys
The S2009 is operated by an integrated keypad and rotary dial. Direct-access menu keys beside the display provide intuitive control of on-screen menu options, for one-button access to key settings and features. With reliable, long-life operation and clear tactile feedback, the S2009's large buttons are suitable for use in rough seas, while travelling at speed, and with wet or gloved hands. Rugged Design with Flexible Mounting Options The S2009 may be flush-mounted, ideal for installation aboard new vessels. Alternatively, the included gimbal bracket is well suited to outside installations or pilothouse refits. With watertight rear connectors, the S2009 is IPX7 water-resistant from all sides, in either flush- or bracket-mount installation.
Networking & Expansion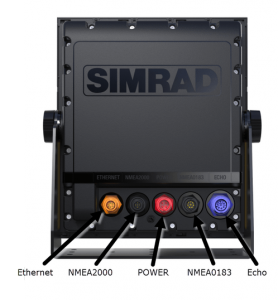 The S2009 includes Ethernet connectivity to share sonar data with other Simrad systems including NSO evo2 and NSS evo2 multifunction displays. The S2009 may also be used as a dedicated fish finder display for NSS evo2 systems, receiving sonar data from an NSS evo2 display's built-in Broadband Sounder™ module. Other devices may be networked via the S2009's NMEA 2000® and NMEA 0183® ports, enabling additional functionality such as waypoint marking and sharing with compatible devices. * Simrad Commercial S2009 and S2016 products currently only support limited Ethernet networking capabilities to Simrad BSM-2 and BSM-3 sounders. Full Ethernet networking to the Simrad line of Displays and ECDIS, as well as the SonarHub sounder module will be implemented in the RTM2 software release expected delivery June 2016.
Sonar Log Recording – ciBioBase and Insight Genesis Compatible
The S2009 is capable of recording sonar history to a full-sized SD memory card, which may be easily inserted and removed via a waterproof access hatch on the front panel. Recorded sonar logs may be used with the cloud-based Insight Genesis™ service to create custom fishing charts, or BioBase GIS software to create detailed aquatic bathymetric and vegetation maps for survey and research purposes.
Display
Display Resolution 480 x 800
Display Type 9-inch LED-backlit Colour TFT LCD
Brightness 1200 cd/m2
Display Size 9-inch portrait
Overview
Output Power 1 kW RMS
Echosounder Max Depths 3,000 m / 10,000 ft (transducer-dependent)
Echosounder Transducers Standard Broadband and single-channel CHIRP Transducers
Echosounder Frequencies CHIRP 28-38 kHz, 40-60 kHz, 85-145 kHz, 130-210kHz, Broadband 28kHz, 38kHz, 50kHz, 83kHz, 200kHz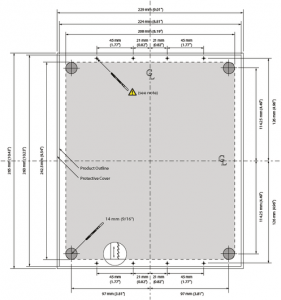 Physical/Environmental
Product Width 224.3 mm / 8.83 in
Product Depth 82.3 mm / 3.24 in
Product Height 260.1 mm / 10.24 in
Operating temperature 15°C to +55°C (5°F to 131°F)
Water Resistance IPX7
Power
Power Supply (Supply Voltage) 10.8-31.2 V DC
Power consumption 11 W
Networking / Connectors
Connectors 1x NMEA0183, 1x NMEA2000, 1x Ethernet
Other
languages supported 38 (some via language pack)
—————————————————————————
Utstyr til ekkolodd, proff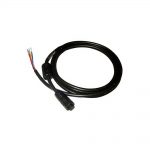 000-11247-001
Touch Monitor / NMEA 0183 serial cable
NSO evo2 NMEA0183/Touch Monitor serial cable 2 m (6.5 ft) Eight core cable. Four for NMEA0183 and four for RS422 serial. Also for R2009 NMEA 0183 Serial cable
——————-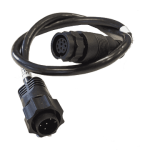 000-13977-001
9 TO 7 PIN XD adapter for Airmar XID CHIRP XDCRS
9 TO 7 PIN XD adapter for Airmar XID Transdcuers. Allows XSonic 9 Pin Transducers with XID to connect to a legacy 7 pin echo sounder module
———————-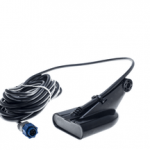 000-10977-001
HDI SKIMMER XDCR 50/200 455/800KHZ
HDI Skimmer® transducer 50/200/455/800kHz with built in temp. Includes mounting bracket and hardware.
HDI Skimmer® Transducer
Hybrid Dual Imaging™ (HDI) transducer (50/200/455/800) – The power of two award-winning technologies — Broadband Sounder PLUS Exclusive DownScan Imaging™ — combined to provide the best-possible view beneath your boat.
Transducer Specifications
• Frequency 50/200/455/800 kHz
• Temperature Sensor Yes
• Mounting Style Transom Mount
• Elements 2
———————–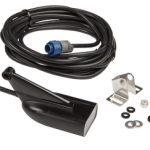 000-10976-001
HDI SKIMMER XDCR 83/200 455/800KHZ
HDI Skimmer® transducer 83/200/455/800kHz with built in temp. Includes mounting bracket and hardware. Cable Length 6m (20ft)
HDI Skimmer® Transducer
Hybrid Dual Imaging™ (HDI) transducer (83/200/455/800) – The power of two award-winning technologies — Broadband Sounder PLUS Exclusive DownScan Imaging™ — combined to provide the best-possible view beneath your boat.
• Frequency 83/200/455/800 kHz
• Temperature Sensor Yes
• Mounting Style Transom Mount
• Elements 2
——————-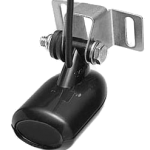 000-0106-72
HST-WSBL
HST – WSBL 83/200 kHz transom-mount skimmer depth/temp – blue 7 pin connector
---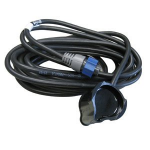 000-0106-73
PD-WBL
PD – WBL 83/200 kHz shoot-thru or trolling-motor mount skimmer depth
——————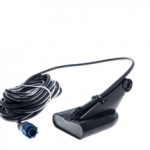 000-0106-77
HST-DFSBL
HST – DFSBL 50/200 kHz transom-mount skimmer depth/temp – blue 7 pin connector
——————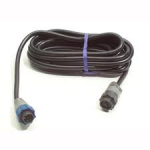 000-0099-94
Tdcr Ext. Cable 20 ft
XT-20BL 20ft blue 7 pin transducer extension cable
---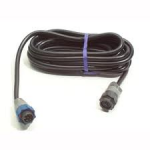 000-0099-93
Tdcr Ext. Cable 12 ft
XT-12BL 12ft blue 7 pin transducer extension Cable
———————-