Beskrivelse
S2009-/S2016-ekkolodd
Fiskeekkoloddet fra Simrad S2000-serien kombinerer maksimale dybdedetaljer og intuitiv bruk med tastatur for pålitelig kontroll under alle forhold.
Separat ekkolodd med integrert Broadband Sounder™-modul og CHIRPteknologi
Høy dybdegjennomtrengning og pinghastighet, og kompensering for vertikal bølgegang
9-tommers stående skjerm eller 16-tommers bredformatskjerm
Høy lysstyrke som passer utmerket for montering utendørs
Se tydelig med funksjoner som White Line (Hvit linje), White Marker
(Hvit markør) og Colour Erase (Fargesletting)
Enkel betjening med 8 menytaster for direktetilgang
Muligheter for brakettmontering og innfelt montering (brakett følger med), samt Ethernet-, NMEA 0183- og NMEA 2000-tilkobling
• Høy CHIRP som skiller fisken fra bunnen.
• Individuell fisk i midtre lag av vannet. Fantastisk registrering av en jigg som vises mens den synker fra 10 meter til bunnen på 41 meter.
Integrated CHIRP Echosounder
S2000 series displays feature a built-in echosounder module with CHIRP technology to deliver higher resolution, improved target separation, and greater image clarity than traditional sonar. Simrad technology makes CHIRP available not only for special-purpose CHIRP transducers, but also for traditional single-frequency transducers. This offers a cost-effective upgrade to CHIRP technology by installing an S2000 series fish finder for use with your existing transducer. Installation is simple thanks to a plug-and-play port for Simrad and Airmar transducers with blue seven-pin connectors, and a range of optional adapters to enable easy retrofit to other transducer types.
16-inch Widescreen Display
The S2016 offers a combination of excellent vertical detail and a lengthy on-screen echosounder history, with a high-definition 16-inch widescreen display. This reduces your need to zoom or scroll, while making it easy to backtrack to promising areas. Direct-access menu keys beside the display provide intuitive control of on-screen menu options, enabling one-button access to key settings and features. With reliable, long-life operation and clear tactile feedback, the S2016's large buttons are suitable for use in rough seas, while travelling at speed, and with wet or gloved hands. An HDMI output lets you mirror the built-in screen on a secondary display, delivering echosounder visibility at a second station without a second fish finder.
Networking & Expansion
It's easy to share sonar data with other Simrad displays over an Ethernet network. S2000 series fish finders can also be used as dedicated displays for the built-in sonar module on Ethernet-connected Simrad multifunction displays, freeing your main display for other purposes such as navigation or radar. Other devices can be integrated via NMEA 2000® and NMEA 0183® connectivity, enabling additional functionality such as marking a waypoint on your chartplotter straight from the fish finder's history in order to revisit a promising spot.
Integrated 16-inch widescreen HD display
Dual-display mirroring option with HDMI output
High depth penetration and ping speed
Vertical heave compensation
Simple operation with 8 direct-access menu keys
Customise your view to highlight targets of interest
Bracket or flush-mount installation (bracket included)
Display
Display Resolution 1366 x 768
Display Type 16-inch LED-backlit Colour TFT LCD
Brightness 400 cd/m2
Display Size 16-inch widescreen
Overview
Echosounder Max Depths 3,000 m / 10,000 ft (transducer-dependent)
Echosounder Transducers
Standard Broadband and single-channel CHIRP Transducers
Echosounder Frequencies
CHIRP 28-38 kHz, 40-60 kHz, 85-145 kHz, 130-210kHz, Broadband 28kHz, 38kHz, 50kHz, 83kHz, 200kHz
Output Power [kW] 1 kW RMS
Technical/Environmental
Water Resistance IPX7
Product Width 455.5 mm / 17.93 in
Product Depth 82.3 mm / 3.24 in
Product Height 260.1 mm / 10.24 in
Power
Power Supply (Supply Voltage) 10.8-31.2 V DC
Power consumption 20 W
Connectors
Connectors 2x NMEA0183, 1x NMEA2000, 1x Ethernet, 1x HDMI output, Power
Other
Other Features 38 languages supported (some via language packs)
—————————————————————————
Utstyr til ekkolodd, proff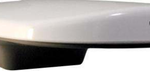 —————-
000-12308-001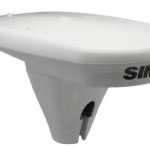 HS60 GPS COMPASS
Veil kr10.000,-
Tilbud kr 8.999,-
Simrad HS60 is a low cost GPS compass.
Key Features
• Provides heading, pitch, roll, heave and position
• Excellent in-band and out of band interference rejection
• 2° (RMS) heading accuracy in an amazingly small form factor
• Integrated gyro and tilt sensors deliver fast start- up times and provide heading updates during temporary loss of GPS and satellites
• Differential (SBAS) position accuracy of 1 m RMS
• Accurate heading for up to 3 minutes during GPS outages
• Offered as NMEA 2000 version*
*NMEA 2000 cable is not included
Key Features

• Low cost GPS Compass
• The most price competitive Simrad GPS Compass solution to date
• HS60 GPS Compass which will replace both Fluxgate compass and GPS antenna
• Supplies as a standalone system with mounting accessories
• Easy to install with NMEA 2000 cable (cable is not supplied)
• HS60 can supply True Heading messages on NMEA 2000 BUS
• Can be connected to GN70/MX610/MX612 GNSS Navigation systems via NMEA 2000 BUS
• Provides heading, pitch, roll, heave and position
• Excellent in-band and out-of-band interference rejection
• Accurate heading for up to 3 minutes during GPS outages
Technical/Environmental
• Product Length [mm] 259 mm / 10.2 in
• Operating Temperature -30 °C to +70 °C (-22 °F to +158 °F)
• Operating Temperature Stored -40 °C to +85 °C (-40 °F to +185 °F)
• Product Width 129 mm / 5.1 in
• Product Height 45 mm / 1.8 in
• Product Weight 0.42 kg / 0.9 lb
Other
• Humidity Range [rh] 100% non-condensing
• Compass Safe Distance [mm] 300
• Information
• Picth/Roll Angle 2° (RMS)
Power
Power Consumption 3 LEN
• Communications Data I/O Protocol NMEA 2000
GPS Navigation Heading Accuracy 2° (RMS) Heading Fix < 10s typical (valid position) Rate of Turn 90°/s maximum Receiver Type GPS L1 Compass Networking Connectors Connectors NMEA 2000 Connector: 5 Pin Male Micro Connector
———————————