Beskrivelse
Reduser risikoen for kollisjoner med denne helintegrerte AIS-transponderen i klasse B fra den nyeste generasjonen – en nødvendighet når du skal navigere i travle skipsleder og trafikktette havner. Den nye NAIS-400 har en kompakt størrelse og lav vekt, er helt vanntett, bruker lite strøm og har mange tilkoblingsmuligheter, noe som gjør den ideell for nettverk med HDS®-kartplottere og -flerfunksjonsskjermer samt Lowrance VHF-systemer.
Hovedfunksjoner
Godkjent for klasse B
Sending og mottak
Integrert løsning
Flere nettverkstilkoblinger
Vanntett
Lav vekt
Lavt strømforbruk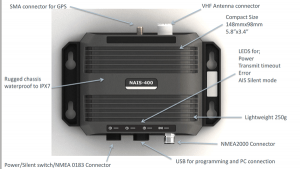 ---
NAIS-400 Class B AIS
Latest generation AIS engine
Compact size, light weight
Multiple connection options, N2k, NMEA 0183, USB
NMEA 0183 Multiplexing
Matching VHF/AIS/FM antenna splitter
New generation compact sized Class-B AIS system, waterproof to IPX7
NSPL-400 provides unique provision of pre-wired Motorola FM radio connector for direct connection to Navico Sonic hub or plug-compatible VHF radio, plug & play.
Support for wide voltage range, 9.6 – 31.2 V DC
Low average power consumption 170 mA at 12 VDC
50 channel IEC 61108-1 compliant GPS receiver
Water resistant to IPx7
Tested to IEC 60945 'Protected' category
Multiplexed NMEA 0183, connect devices at 4800 baud to the low speed NMEA in port and sentences will be multiplexed out over the high speed 38400 baud output, useful for when chart plotters have a single NMEA 0183 input.
AIS 101
About AIS
The marine Automatic Identification System (AIS) is a location and vessel information reporting system. It allows vessels equipped with AIS to automatically and dynamically share and regularly update their position, speed, course and other information such as vessel identity with similarly equipped vessels. Position is derived from the Global Positioning System (GPS) and communication between vessels is by Very High Frequency (VHF) digital transmissions. There are a number of types of AIS device as follows:
Class A transceivers. These are similar to class B transceivers, but they are designed to be fitted on large vessels such as cargo ships and large passenger vessels. Class A transceivers transmit at a higher VHF signal power than class B transceivers and therefore can be received by more distant vessels, and also transmit more frequently. Class A transceivers are mandatory on all vessels over 300 gross tonnes on international voyages and certain types of passenger vessels under the SOLAS regulations.
Class B transceivers. Similar to class A transceivers in many ways, but are normally lower cost due to the less stringent performance requirements. Class B transceivers transmit at a lower power and at a lower reporting rate than class A transceivers.
AIS base stations. AIS base stations are used by Vessel Traffic Systems to monitor and control the transmissions of AIS transceivers.
Aids to Navigation (AtoN) transceivers. AtoNs are transceivers mounted on buoys or other hazards to shipping which transmit details of their location to the surrounding vessels.
AIS receivers. AIS receivers will generally receive transmissions from class A transceivers, class B transceivers, AtoNs and AIS base stations but do not transmit any information about the vessel on which they are installed.
Static and dynamic vessel data There are two categories of information transmitted by an AIS transceiver: static and dynamic data. The vessel's dynamic data, which includes location, speed over ground (SOG) and course over ground (COG), is calculated automatically using the installed AIS antenna. Static data is information about the vessel which must be programmed into the AIS transceiver. This includes: •Maritime Mobile Service Identity (MMSI) •Vessel name •Vessel call sign (if available) •Vessel type •Vessel dimensions In most countries the operation of an AIS transceiver is included under the vessel's marine VHF licence provisions. The vessel on to which the AIS unit is to be installed must therefore possess a current VHF radiotelephone licence which lists the AIS system, vessel Call Sign and MMSI number.