Beskrivelse
HDS-7 Carbon kombinerer en ultraklar SolarMAX™ HD-skjerm med en ny to-kjerners prosessor med høy ytelse, banebrytende ekkoloddteknologi, CHIRP med to kanaler, ekkolodd med to nettverkstilkoblinger og det siste innen integrerte, trådløse serviceverktøy. Større smidighet, hastighet og kraft i én brukervennlig multitouchskjerm.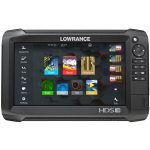 Lowrance® HDS-7 Carbon har en ny 9-tommers, ultraklar SolarMAX™ HD-multitouchskjerm med sterk LED-bakgrunnsbelysning og avansert antirefleksbelegg. Dette gir bedre innsynsvinkel under alle lysforhold. Bare med HDS Carbon får du denne overlegne fargegjengivelsen og et forsterket visningspanel med høy oppløsning som er spesialutviklet for å få maksimalt ut av det beste ekkoloddet på markedet i dag.  HDS Carbon har en to-kjerners prosessor med høy ytelse og gir høyere opptegningshastighet og kortere responstid for CHIRP-ekkolodd med to kanaler, ekkolodd med to nettverkskanaler, StructureScan 3D® og StructureMap™ og delte skjermbilder som viser alt dette og kart samtidig. Den har også nok rå styrke til å kunne kjøre fremtidige slagkraftige ekkoloddoppgraderinger. HDS Carbon gir en moderne, smarttelefonlignende følelse med integrert trådløst nettverk og Bluetooth®-tilkobling som støtter den mest avanserte maritime teknologien, inkludert en nettverksanalysator som varsler brukerne når ny programvare er tilgjengelig og en serviceassistent som gjør det mulig for brukere å overføre en detaljert rapport om sine elektroniske nettverk direkte til kundestøtte for skreddersydd assistanse.  HDS Carbon er den mest allsidige kombinasjonen på markedet. Den kan vise og kontrollere Mercury® VesselView® Link, parkobles med Power-Pole® gruntvannsankre og kontrollere SmartSteer™ elektroniske motorer og påhengsmotorer. En omfattende liste over pluginmoduler for sikkerhet og underholdning som kan gjøre nettverket ditt komplett.   Du kan navigere enkelt med HDS Carbon takket være dokumentert Lowrance-navigasjon, en intern GPS-antenne på 10 Hz og en rekke kartalternativer som er tilgjengelige fra enhetens doble microSD-kortspor eller via trådløs nedlasting fra GoFree® Shop.
Spesifikasjoner
Easy To See: 7-inch, LED-backlit, multi-touch, SolarMAX™ HD widescreen display. SolarMAX™ HD touchscreens produce wider viewing angles from anywhere in sight. Using a unique balance of high-bright LED backlight and advanced anti-reflective coatings along with superior color accuracy and a boosted high-resolution viewing panel, a wider operating temperature range and added moisture-proof optical layers produce clear visibility in any lighting situation.
Simple To Use: Unique Lowrance® interface featuring quick-response touchscreen or keypad control, intuitive software, and protective coatings deliver performance in the most rugged on-the-water conditions. Lightning-fast, fingertip access to all HDS Carbon features.
Dual-Core, High Performance Processor: HDS Carbon employs a dual-core, high performance processor with more than enough agility, speed and power providing faster redraws and quicker response times to easily drive today's best technology, like StructureScan® 3D, Mercury® VesselView® Link and the Lowrance Outboard pilot. And, it has enough reserve brute strength to drive future high powered fishfinding technologies, too.
Dual-Channel CHIRP Sonar: Never miss fish targets with two CHIRP frequency channels at the same time low, medium or high. Keep favorite high CHIRP frequency visible for increased target separation close to the bottom or in tight schools and now view the low frequency channel at the same time to cover more of the water column with wider and deeper cone angles.
Dual Network Sonar Views: Cover more water and mark fish targets more clearly from a network of CHIRP sonar transducers. Watch sonar views from bow-mounted transducer and the in-hull or transom-mounted transducer at the same time on the same display.
Most Advanced Fishfinder Technology: Simultaneously view CHIRP Sonar with StructureScan® 3D or StructureScan® HD to get the best possible view of fish and structure, below and to the sides of your boat.
Quickly Make Adjustments: HDS Carbon has a high performance processor that produces lightning quick redraw speeds and faster sonar updates. It easily powers Carbon's intuitive user-interface that includes scrolling menus, cursor assist, snap-to setting markers and innovative preview panes with quick-touch slider bars.
Stay Connected: Integrated wireless connectivity with the Lowrance® GoFree® App and other onboard devices, allows you to download software updates and map purchases ─ for immediate use ─ in addition to viewing and/or controlling the display wirelessly using supported tablets and smartphones.
Network All Components: Plug-and-play compatibility with Lowrance performance modules, including Broadband Radar, SonicHub®2 Marine Audio, SiriusXM® Marine Weather and audio, Class B AIS and DSC VHF, as well as industry-leading technologies, like Mercury® VesselView® Link, Bluetooth® control of Power-Pole shallow water anchors equipped with the C-Monster Control System and the SmartSteer™ interface, featuring control of MotorGuide® Xi5 trolling motor and the Lowrance® Outboard Pilot.
Wireless Diagnostic Tools: The Network Analyzer detects devices with out-of-date software, while the Service Assistant allows users to send a detailed report of networked devices to Navico Service for quicker resolution of software/technical issues.
TotalScan™ all-in-one transducer ready
Point-1 Antenna support (external)
Precision-9 Compass compatibility
General
| | |
| --- | --- |
| Display Size | 7in (178mm) Diag. |
| Display Type | XVGA color IPS TFT LCD |
| Resolution | 1000 x 600 |
| Backlight | Pure White LED |
| Display Brightness | >1200 Nits |
| Height | 5.76in (146.3mm) |
| Width | 8.48in (215.4mm) |
| Depth | 3.47in (88.2mm) |
| Weight | 3.04lb (1.38kg) |
Environmental
| | |
| --- | --- |
| Operating Temperature | 5°F to 131°F (-15°C to 55°C ) |
| Waterproof | IPX7 with card door closed |
| DOC | Part 15.103 FCC rules & CE RTTE directive 1999/5/EC |
Electrical
| | |
| --- | --- |
| Current Draw | Max – 2.3A @ 13.8VDC with backlight on full |
Typical – 1.5A @ 13.8V
| | |
| --- | --- |
| Operating Voltage | 12VDC |
| Supply Voltage | 10.8-17VDC |
User Interface
| | |
| --- | --- |
| Interface | Full Multi-touch touchscreen and Keypad; 8-way directional keypad; ZOOM +/-, EXIT,ENTER,MENU,SWAP PANEL,WPT,LIGHT/POWER |
| Standard Languages | Afrikaans/Afrikaans, Danish/Dansk, German/Deutsch, English (US), English (UK), Spanish/Español, Finnish/Suomi, French/Français, Greek/Ελληνικά, Icelandic/íslenska, Italian/Italiano, Dutch/Nederlands, Norwegian/Norsk, Portugese (Brazil)/Português (BR), Portugese (Portugal)/Português (PT), Swedish/Svenska |
| Eastern European Language Pack* | Bulgarian/Български, German/Deutsch, Estonian/Eesti, English (US), English (UK), Spanish/Español, French/Français, Hebrew/ عبری , Croatian/ Hrvatski, Hungarian/ Magyar, Italian/Italiano, Lithuanian/Lietuvos, Latvian/ Latvijas, Polish/Polski, Slovak/ Slovensky, Turkish/Türkçe |
| Middle East Language Pack* | Arabic (UAE)/ العربية , German/Deutsch, English (US), English (UK), Farsi/ فارسی , French/Français, Italian/Italiano |
| Asian Language Pack* | English (US), English (UK), Japanese/日本語, Korean/한국어, Thai/ภาษาไทย, Chinese – (simplified) China/简体中文, Chinese – (traditional) Taiwan/繁體中文 |
| Russian/Ukrainian* | German/Deutsch, English (US), English (UK), Spanish/Español, Italian/Italiano, Russian/Русский, Ukraine/ Українська |
*only available from authorized dealer/distibutor in the region.
Chart Plotter Characteristics
| | |
| --- | --- |
| Display Modes | North up, Course up (COG), Heading up (heading with external heading sensor or COG) |
| Built-in Cartography | Insight USA (AMER models), Navionics basemap (AMER and ROW models) |
| Add on Cartography | Navico Insight HD, Navionics Platinum+/Platinum/Gold, Fishing HotSpots |
| Alarms | No GPS fix, Anchor, Low boat speed, XTE, Waypoint radius, Arrival |
*Restricted Areas Of Operation for Americas Units
HDS Units designed for sale in the America's region have restricted functionality outside of the area defined by 30 degrees West longitude on the East and the International Date Line on the West. America's units operating outside of this region are restricted to English language selection only and will not display metric based units. Inside the America's region, these units have full feature set functionality. Lowrance manufactures WorldWide HDS models that have no feature set restrictions and meet all local and regional requirements for operation. Worldwide HDS models are available from dealers and distributors based outside the America's region only.
Sonar Characteristics
| | |
| --- | --- |
| Built-in CHIRP | Yes |
| Built-in Broadband | Yes |
| Multiple Network Sonar | Yes |
| Dual Channel CHIRP Sonar | Yes |
| Built-in StructureScan | Yes |
| Available Frequency | 83/200 kHz or 50/200 kHz (depending on Broadband transducer); 455/800 kHz for StructureScan |
| Available CHIRP Frequencies | High CHIRP, Medium CHIRP or Low CHIRP (depending on transducer) |
| Power | 1kW capable depending on transducer |
| Max Depth | 5000ft (1524m) *depending on transducer |
| Alarms | Depth, Fish I.D., Shallow |
Radar Charateristics
| | |
| --- | --- |
| Radar Compatibility | 4G (Broadband), 3G (Broadband), TX06L-1 (6kW HD Digital) |
| EBL/VRM | 2 user configurable |
| Guard Zones | 2 user configurable |
Comms/Interface
| | |
| --- | --- |
| NMEA0183 | 1 x RS422 port |
| Supported baud rates | 1200, 2400, 4800 (Default), 9600, 19200, 38400, 57600, 115200 |
| Ethernet | 1 Port |
| NMEA 2000 | 1 Micro-C |
| Video Input | Yes with optional cable |
| Data Card Slot | 2 micro SD cards up to 32GB |