Beskrivelse
12 Volts innerjakke
Nå tynnere og forbedret
A modern classic and our number one seller. Designed to be easily worn under outer garments with just a single layer underneath. Our heated liners and unique heating system allow you to wear your existing outerwear while providing an even distribution of warmth throughout the body. Constructed from a soft shell, wind-resistant, soft nylon shell making for very lightweight and highly compressible garments. The perfect items to pack for those trips with unpredictable weather conditions. The heated jacket has a heat output of 77 Watts, which makes it the hottest product Gerbing has to offer.
Heating pads on the chest, back, collar, and sleeves.
Compressable, water-repellent, durable, Thinsulate® insulation soft shell.
Inside and outside pockets.
Silky soft micro denier collar.
Firm-fitting patterns and sizing to fit snugly and easily under your outer motorcycle garments.
Glove plugs to connect the 12 volt heated gloves to the sleeve plugs
Glove plug pockets placed on the sleeves to secure the plugs when not in use.
Dual 2 wiring configuration (for one user only). This means the heated gloves and or the heated pants can be set on a different heat level.
Lifetime warranty on heating elements.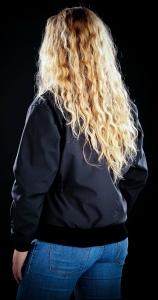 The heated jacket has 3 plugs coming out for power to different products. One plug (white) is main power for the heated jacket. The black one is the power connection plug for the 12 volt heated gloves which can be connected to the sleeves of the jacket. The third plug is the accesory plug (yellow) so you can connect your heated trousers or heated pants to. or with a normal y-cable you can connect the heated socks to the third yellow plug.
There is over 30 meters of heating wire in our heated jacket. We guarantee you that it will keep you warm even in arctic temperatures! The heated jacket is Gerbing's best product, since it will keep the corps warm, which makes the vital organs warm when it's cold outside. When your vital organs are warm, your body ends (hands and feet) will stay warmer too. Dial in your comfort with the best product Gerbing has to offer: the heated jacket.
What do you need to use this product?
Battery Harness
Included
Single or Dual Temperature Controller
Optional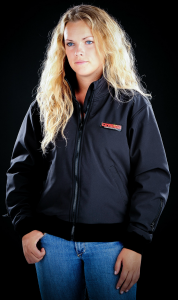 Actual run time may vary depending on ambient temperature. Battery capacity decreases in very cold weather, especially if the battery is not insulated, and is left exposed to the elements. At less than 0°C a battery may only produce 80% of its capacity.
Warning: It is very important to understand that our 12 volt products are designed to keep you warm in the most extreme cold situations. Therefore it is very important to check your skin regularly when using our products in warmer weather conditions. Our 12 volt products will feel warmer when the temperature is rising and it might cause burns. Our advice is to use a temperature controller at all times. An outside temperature of 5°C and lower is the ideal temperature for our heated products. Remember: heat is very personal.
To extend battery life, keep even if the batteries are not used always at least 25% charged. In the summer charge the batteries therefore once a month. (Hint: write it in your agenda).
Note: If you are purchasing a single controller to use with one our jackets which are wired with our Dual 2 wiring systems, you will need to purchase a splitter if you choose to operate other heated clothing with the jacket.